Company Lunch 2022 – Director's Speech
You may be asking why I recorded this video when I am around to speak.
The reason is I might not be around to speak.
We are living in a new era.
Seeing everyone wearing a mask on the streets must have been beyond your wildest imagination more than two years back.
Not in today's context.
We have also sort of get used to say, getting your ART tested negative before you attend this function.
This is one of the many life constraints as we work together to fight the COVID war. No one can tell how long we will be in this war but we have to make the best of it as the old adage says, "Life goes on."
And we must.
Indeed at our workplace, many of you have made sacrifices to ensure that operations remains uninterrupted and our livelihoods continue unabated. Let me elaborate.
For many weeks since CNY, shortfalls rise sharply due to perfect storm of covid Omicron surge, holiday season and opening of VTLs. Our Operations have somewhat been affected. Many of our Operations and Command Centre team members are helping to manage the clients as well as covering for the shortfalls. Personally I am thankful to them for helping to alleviate the shortfalls in this difficult times. Other departments are doing their best to help you guys out.
The HR and Recruitment teams are proactively devising the most viable and creative strategies to attract new recruits. This is extremely difficult as all industries in Singapore are facing the same perfect storm as us.
MTA has also developed a suite of courses for all ranks in the security industry. They have not stopped there. Soft skills courses are also curated and this will augur well as we trained Metropolis staff as well as the security industry officers in general. Of late, perhaps due to the reduction in grants, buisness has somewhat shrunk but I am optimistic that MTA will work harder to excite more interests in the training arena. Nonetheless, MSS can tap on the synergistic relations to upskill or reskill the Security Officers.
Our new endeavour, Digital Marketing team is gaining more eyeballs in the digital world. Many heartwarming videos are created and I believe our digital journey to more greatness has only just begun. Many of the new joining candidates are engaged through the digital channel.
Thanks to the Technology team, our tech endeavours are gaining momentum, albeit a rocky one. In January, we launched E rostering. As in all new software, E rostering requires much feedback and tuning so as to be user friendly, efficient and effective. Our Knowledge Management System has already started buisness and requires much of your input to make it a vast knowledge repository. I truly believe knowledge is power and we should tapped this potential. Smart command centre is in the pipeline as the vendors and our team put their ideas on the drawing board. The Metropolis mobile app is soon to be live and I certainly look forward to it. it. Once all these Metropolis technologies take fruition, I believe job redesigning and OBC pitching to the clients can fall into place more easily.
Quality management team have done well to manage SACE auditing without much external help. In addition, they contributed significantly to the ISO 9000 and 45000 recertification as well as the brand new certification in ISO 23000 BCMS. We are now moving towards our next challenge ISO 27000 ISMS.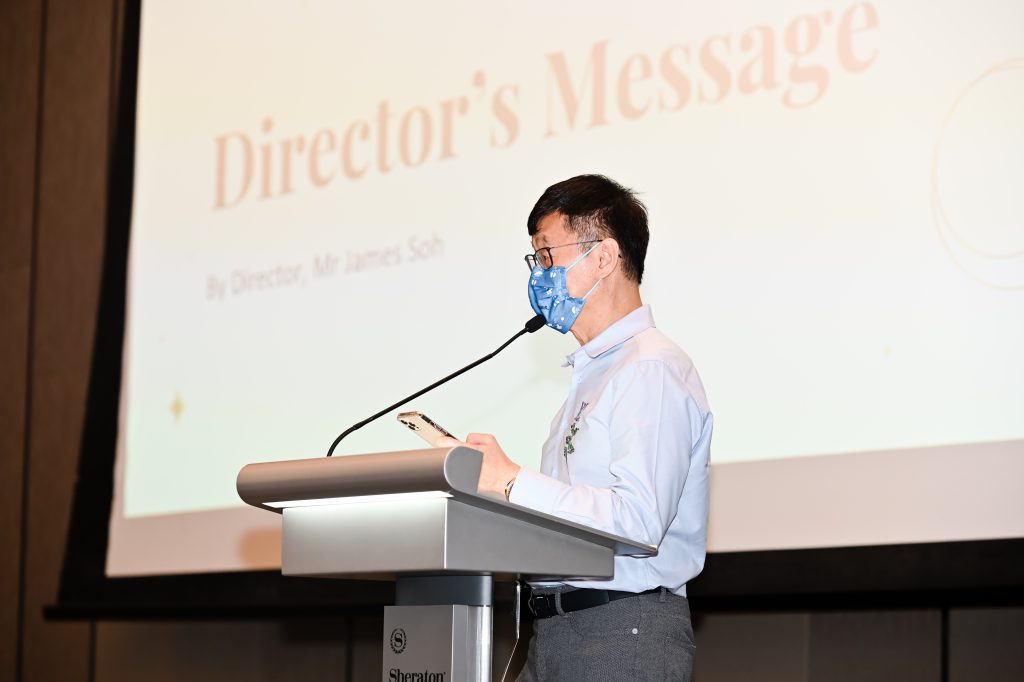 For all the specialisations and departments that Metropolis support, it makes no business sense if we are not gaining new clients and losing old ones. Akin to rocket, we need the fuel to propel the rocket to greater heights. The Sales and Accounts teams have thus far done much to provide Metropolis with the propellant. They are relentless in pitching to potential clients. They have done w RE ell as we gained new grounds. We are able to reach out to the stars.
Would you want to be a MAS or a SIA ? Obviously, Branding is important to the success of any company. My Management team also strived hard to gain more accolades and recognition as well as seek out win win collaborations. Just to name a few, Leading industry advocate in Workplace Learning, winning SHRI awards, Participating as speakers in webinars, vying for Skills Future awards.
Last but not least, this company lunch will not be possible without the organising committee. I would like to thank Chris Tuen the organising committee chairman together with his able assistants Gin, Felicia, Ariyana for making this lunch come true and in a safe manner.
Yesterday, the Ministerial Committee announced gradual easing on March 15, which is three days later. This is perhaps one step towards living happily ever after with the virus. However, always be prepared for setbacks as we have encountered so many times and pull through. New variants, inflationary pressures and the after effects of prolonged Russian invasion.
NotWithstanding all these setbacks, In front of us, We have a bigger mountain to climb. It's our journey to transformation. Metropolis, let's stay focus and soldier on.